Dr. Mithilesh Kumar Choubey
(MBA, PhD, PG Diploma in Journalism & Mass Com)
Editor-in Chief, Jamshedpur Research Review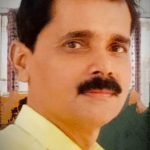 Brief Profile
Currently associated with the Department of Journalism & Mass Communication, Jamshedpur Women's College , Dr. Mithilesh Kr Choubey is an eminent writer, educationist, and researcher. In hiscredit there are ten research papers and two books in Hindi.
in the year 2000, he started his career as an academic counselor (Management Programme) at IGNOU preferring a relatively unexplored area of teaching-
research work supervision'. and supervised more than 100 research works between 2001 to 2019 covering almost every areas of business management as an university approved research guide of IGNOU on university approved research topics.
His first novelसन अस्सी (San Assee) was published in 2017. San Assee was a regional best seller in 2016. The book was focused on the socio-economic condition of a small industrial city named Jamshedpur. It was an experimental book that documented the socio-economic life of 1980's Jamshedpur in a very interesting manner.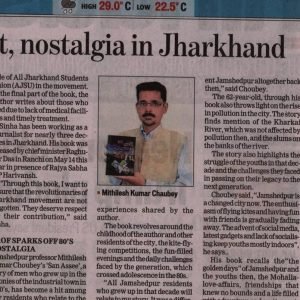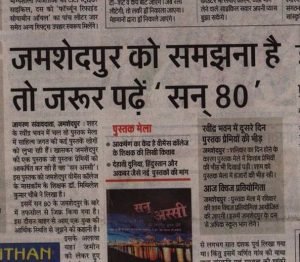 His another book 'JWC Jansanchar Wahini, was published in 2018. The subject areas of the book was focused on changing nature of Indian media.
He has been honoured by many organizations and academic institutions for his extraordinary contributions in the area of academics, literature and research.
In 2018 he got prestigious Sohal Lal Tater award in XLI Annual Conference of Indian Society of Gandhian Studies.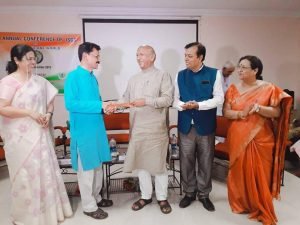 Dr. Mithilesh Kumar Choubey receives Sohan Lal Tater Awards of ISGS during XLI annual Conference of Indian Society of Gandhian Studies from Sri. Saryu Rai, Senior minister of Jharkhand Government
His many case studies and research papers were awarded in India's best academic institutions.
RESEARCH PAPERS PUBLISHED : TOTAL- 10
Title

Name of the journal

Index No.

Details

a) Corporate social responsibility- trends and practices

Land To lab

ISSN-975-282X

Vol 4 No.13A, January 2012

b) Buyer behavior of small city customers of organized retail formats

Jamshedpur Research Review

ISSN 2320-2750

Vol 1 :Issue 1: December 2012

c) Jugaad Technology , Reverse innovation and disruptive innovation: Integrating together

Jamshedpur Research Review

ISSN: 2320-2750

Vol 2: Issue 2: March- May 2013

d) Hedonistic philosophy: Ancient and modern view

Jamshedpur Research Review

Jamshedpur Research Review

Vol II: Issue VII : June 2014

e) Science of Meditation for inner peace and wellness

Jamshedpur Research Review

Jamshedpur Research Review

Year III Volume III Issues X 2015

f) किताबघर के बंद दरवाजे के पीछे गुम लुगदी उपन्यास

इस्पातिका

2231-4806

अंक 10, वर्ष 5 जुलाई –दिसंबर 2015

g) Haradih and its Historic temples: A ground report

Jamshedpur Research Review

ISSN 2320-2750

Year III :Volume III: Issue X :March 2016

h) Two years of BJP Govt in Jharkhand

Jamshedpur Research Review

ISSN 2320-2750

Year V: Volume I: Issue XIX 2017

i) Political Advertising in India

Jamshedpur Research Review

2320-2750

Vol 4: Issue XXIX: April- May 2018

j) Performance Appraisal of four years of Jharkhand Government

Jamshedpur Research Review

2320-2750

Year 7 Vol 1: Issue XXXII: April- January 2019

Total: 10
UGC SPONSORED NATIONAL AND INTERNATIONAL SEMINARS
| | | | |
| --- | --- | --- | --- |
| Year | Organization/ Topic | Place | Level |
| a) 2-4th November 2018 | XLI Annual Conference of ISGS on Gandhi and one Word | Jamshedpur Women's College | National |
| b) September 2017 | त्रि-दिवसीय अंतर अनुशासनिक राष्ट्रिय सेमिनार हिंदी सिनेमा में अभिव्यक्त भारतीय समाज और संस्कृति | जमशेदपुर को-आपरेटिव कॉलेज, जमशेदपुर | NATIONAL |
| c) March 2015 | 68th All India Commerce Conference, KIIT Bhubaneswar | Binowa Bhawe University, Hazaribagh | NATIONAL |
| d) March 2014 | 67th All India Commerce Conference, | KIIT Bhubaneswar | INTERNATIONAL |
| e) March 2012 | 2 Days Workshop on Research Methodology | Sri Sankaracharya Mahavidhyalaya. Bhilai CH. | National |
| f) January 2012 | National seminar on modern marketing and society-Marketing ethics and responsibility towards society. | Sri Sankaracharya Mahavidhyalaya. Bhilai CH. | National |
| g) March2012 | Foreign Direct Investment : Changing paradigm | Karim City College, Jamshedpur | National |
| h) March 2011 | Trends in contemporary management principles | Vidhyasagr University, West Bengal | National |
| i) February 2011 | Empirical research in diverse streams of commerce and business management | Vidhyasagr University, West Bengal | National |
| j) 1-3 October 2010 | Green Marketing :Strategy & Challenges | 63rd All indie Commerce Conference, Goa | National |
| k) October 2010 | Annual Conference on Market Economy and Gandhian Ethics | Indira Gandhi National Open University, New Delhi | National |
| l) January 2009 | International business and entrepreneurship Fest. | IIT Kanpur | International |
Orientation programme/Training programme attended : Total-03
| | | | |
| --- | --- | --- | --- |
| Course | Year | Duration | Organization |
| Orientation/training programme for academic counselors | March 2 2019 | March 2 2019 | Indira Gandhi National Open University, Ranchi Regional Centre. |
| PhD Course Work | Session 2016(16PHDCOM04) | Six Months 2016 | University Department of Commerce & Business Management, Department of Commerce & Business Managment |
| Academic counsellor's training –online(ACT-Online) | 09-10-2010- to 7-01-2011 | 3 Months( 3 Credit) | Staff training and Research Institute of Distance Education IGNOU New Delhi |
BOOKS PUBLISHED- TOTAL- 2
Name of the book

Year of Publication

ISBN

San Assee(सन अस्सी)

(regional Best Seller)

1916

978-93-5267-586-9

Jansanchar Wahini

2018

978-93-5281-400-8

Total -2
RESEARCH WORK SUPERVISION
| | | | |
| --- | --- | --- | --- |
| S.No | Topic | E.No | Year of university approval |
| 1. | Job Satisfaction level of Call centre employees : A case study of Jamshedpur, Jharkhand | 142088270 | 2016 |
| 2. | Entrepreneurship among young Muslim women in India : A case study of Jamshedpur | 1111688272 | 2015 |
| 3. | Measuring the dealership effectiveness of Jaesh industrial suppliers Pvt Ltd, Jamshedpur | 130170389 | 2015 |
| 4. | Impact of occupational health and safety policy and practices : A case study of Tata Motors Jamshedpur | 130170253 | 2015 |
| 5. | A contemporary study of employee satisfaction levels of private and public sector banks of Jamshedpur, Jharkhand | 100140946 | 2015 |
| 6. | Employee Satisfaction level of Tata Steel Workers: An empirical investigation | 111168580 | 2015 |
| 7. | Study of Quality of Work life Balance in JUSCO, Jamshedpur | 072274148 | 2011 |
| 8. | Impact of Globalization on Tata Steel A case study of Jamshedpur Plant of Tata Steel( Under progress) | 121826129 | 2015 |
| 9. | Attitude of graduate engineers towards Personal & professional ethics and moral values : A case study | 072280435 | 2011 |
| 10. | Study of ethical and moral values among entrepreneurs of Jharkhand with special reference to Gandhism and Budhism | 110958565 | 2014 |
| 11. | Marketing of rural crafts and artworks of Jharkhand ( JHRARCRAFT): A case study of Jharkhand | 080958888 | 2011 |
| 12. | IMPACT OF IRDA Guidelines IRDA 2010 on the marketing strategy of LIC of India and other insurance companies of India | 126839064 | 2013 |
| 13. | Attitude of workers towards trade unions: A case study of TWU | 083475171 | 2011 |
| 14. | Attitude of teenage boys and girls towards brands. | 970068585 | 2001 |
| 15. | Analysis of buyer behaviour of air conditioner. | 002325787 | 2002 |
| 16. | Scope of advertising industry in Jamshedpur: an empirical investigation. | 970070109 | 2002 |
| 17. | Impact of incentives on middle class for FMCG: A survey of Jamshedpur | 980100842 | 2003 |
| 18. | Scope of network marketing business in India: an empirical investigation. | 980101990 | 2003 |
| 19. | Buyer behaviour of life insurance products in India: A study. | 034701486 | 2004 |
| 20. | Today's market for ethnic paper greetings cards: an empirical study. | 024116832 | 2004 |
| 21. | Attitude of middle class urban Indian women towards branded cosmetics: an empirical investigation in Jamshedpur. | 012878537 | 2004 |
| 22. | Buyer behaviour of slender and modern design kitchen chimney: A study | 032383115 | 2005 |
| 23. | Impact of sales promotion incentives on branded tea: an investigation. | 990030337 | 2005 |
| 24. | Initiatives adopted by Life Insurance Corporation of India to face the challenges of post liberalized market conditions. | 024116818 | 2005 |
| 25. | Customer survey for the home segment of personal computers. | 032382801 | 2005 |
| 26. | Marketing initiatives taken by Amul ice-cream : an investigation | 011361062 | 2005 |
| 27. | Dealership effectiveness of Mithila Motors limited: A case study of TATA MOTORS. | 042967997 | 2006 |
| 28. | Unethical advertisements: a case study of India advertising world. | 032382675 | 2007 |
| 29. | Mind mapping of urban middle class teenagers: an empirical investigation | 043301969 | 2007 |
| 30. | Buyer behaviour of domestic water purifiers: a case study of RO water purifiers. | 051253013 | 2007 |
| 31. | Marketing of rural products in urban markets: a case study of Gramshree Mela. | 052552107 | 2007 |
| 32. | Buyer behaviour of organized retail formats in 'Grade C' cities of India: A case study of Jamshedpur market. | 032383179 | 2007 |
| 33. | Buyer behaviour of 150 cc motorbikes: A study | 061097328 | 2007 |
| 34. | Children's role in family buying decision making. | 043301421 | 2008 |
| 35. | Impact of celebrity endorsement on customer : A study | 970070639 | 2008 |
| 36. | HLV oriented Marketing of life insurance products: a case study of LIC | 990217661 | 2007 |
| 37. | Problems and challenges for micro, small and medium size enterprises and their financial institutions: A study | 071173764 | 2008 |
| 38. | Study of marketing mix with respect to HCL Info system. | 062439227 | 2008 |
| 39. | Marketing initiatives taken by a private sector bank to market its financial products | 062438572 | 2013 |
| 40. | Critical analysis of physical distribution system of TRYL with respect to its customer satisfaction | 052335052 | 2013 |
| 41. | Advertising effectiveness of what an idea Sirjee ad. Campaign of idea cellular | 070978771 | 2009 |
| 42. | Future of direct to home TV : A case study of Indian Market | 072201787 | 2009 |
| 43. | Corporate social responsibility in Tata steel : A study | 061097872 | 2008 |
| 44. | Problems and challenges before organized retail business in current recession period : a case study of organized retail sector | 062438232 | 2013 |
| 45. | Marketing Initiatives Taken by a private sector bank to market its financial products. | 062438572 | 2008 |
| 46. | Sales force management practices in private sector bank: A case study of Axis Bank. | 043301177 | 2008 |
| 47. | Brand Extension Strategy of GlaxoSmithKline Consumer Healthcare: A case study of Horlics brand | 062438028 | 2013 |
| 48. | Impact of Economic Recession on Employee psyche: A case Study of Tata Motors. | 024116420 | 2013 |
| 49. | How Green is your shopping Bag? | 072201225 | 2010 |
| 50. | Reasons for Declining sales of Tata Nano: An Investigation | 052502919 | 2011 |
| 51. | Customer Attitude Towards Pyari Jodi Plan of BSNL: An empirical investigation | 081032420 | 2011 |
| 52. | Attitude of Graduate engineers of TATA MOTORS towards personal and professional ethics& moral Values: A case study. | 72280435 | 2013 |
| 53. | Role of Adityapur Industrial Area in Accelerating industrialization process in Adityapur Area of Jharkhand. | 072201716 | 2010 |
| 54. | Behaviour of internet users of tier III cities of Indian : A study | 062439162 | 2009 |
| 55. | Marketing Strategy of Perfetti Van Millie : A case study | 072213846 | 2011 |
| 56. | Brand building initiatives through mega cricket events : Miss or Hit | 403301270 | 2010 |
| 57. | Marketing Strategy of a new type of a fast Moving Consumer Durable : A case study of Aliva crackers | 072202076 | 2009 |
| 58. | Brand perception of Lafarge Cement : An empirical investigation | 062438952 | 2008 |
| 59. | Impact of recession on the buyer behaviour of four wheelers: A case study of Indian customers. | 072201913 | 2009 |
| 60. | Fuel Branding : A case study of Indian Fuel Retailing Sector | 042968136 | 2012 |
| 61. | Revivify traditional Advertising Media : A case study of Indian television | 062439170 | 2008 |
| 62. | Selling life insurance products : Problem and challenges before Indian private life insurance agents. | 050502711 | 2010 |
| 63. | Problems and challenges : A case study of 'Tata Swach'Water purifiers | 052502787 | 2010 |
| 64. | Measuring the training effectiveness of Indo Denish Tool Room Jamshedpur- | 0913313334 | 2010 |
| 65. | Impact of Termination of Hero Honda Joint venture the brand image of upcoming motorcycles of Hero Group | 091534839 | 2011 |
| 66. | Attitude of adult middle class customers towards instant noodles | 091398292 | 2011 |
| 67. | Attitude of small city customers towards FDI in retail | 091569672 | 2011 |
| 68. | Impact of social media on the buying behavior of Consumer Durables: A study | 083305187 | 2011 |
| 69. | Revival Strategy of BATA India: A case study | 052502854 | 2011 |
| 70. | Khane ke baad kuch mitha hojaye : a case study of Cadbury Dairy Milk | 091534839 | 2011 |
| 71. | SWOT analysis of tourism industry of Jharkhand | 105190585 | 2012 |
| 72. | Fun, Taste and Digestion: A case study of Dabur Hazmola | 091446633 | 2012 |
| 73. | Advertising effectiveness of 'Khusbu Gujrat ki' & 'MP Gajab Hai': A comparative Strategy | 091446623 | 2012 |
Awards & honours
Sohan Lal Tater award for best research paper in2018 jointly organized by Jamshedpur Women's College and ISGS at Jamshedpur Women's College.

Won the best research paper and case study award in UGC sponsored national level seminar organized by Sankaracharya Mahavidhala , CG. 2010

Won second prize in national level competition on 'IPO and Stock' organized by IIT Kanpur,

Honoured by Jharkhand Journalist Welfare association in 2018
Other Academic Responsibilities
Designation

Area

Institution

a) Vice –chancellor's Nominee, Board of Studies

Degree level Mass Com (Honours Prog)

Jamshedpur Women's College, Jamshedpur

b) Question paper Setter

Degree level Mass Com

honours Prog

Jamshedpur Women's College, Jamshedpur

c) Question paper Setter

Degree level Mass Com

honours Prog

ARKA Jain University, Jharkhand

d) Evaluation work- Dissertations

MS-100

IGNOU, New Delhi
Contact Info:
Phone :09334077378
Email: editorjrr@gmail.com