Jamshedpur Research Review
(RNI: JHAENG/2013/53159, ISSN:2320-2750)
At par with UGC listed Journals
Call For Papers
Year 7: Volume 5 : Issue 36
September-October 2019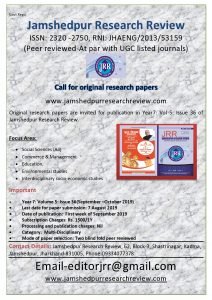 Original Research Papers are invited for publication in Year 7: Volume 4: Issue 36of Jamshedpur Research Review. The issue is scheduled to be published in the month of Last week of August 2019.
Important dates and other information
Last date for paper submission:

7 August 2019

Focus Area:

Multi-Disciplinary (Social Science, Commerce, Education, Management, Environmental Studies etc.)
E-mail address: editorjrr@gmail.com

Date of publication :

First week of September 2019

Publication or Processing fee :

NIL

Annual Subscription charges:

1500/Year

Type of the Journal

-Print

Website:

jamshedpurresearchreview.com

Paper selection criteria

: Two blind fold peer reviewed

Review Period :

4-6 weeks
For more details VISIT our website: www.jamshedpurresearchreview.com.